400,000
That's the Number of Welders that Will Be Needed by 2025.
It's Time to Solve the Labor Issue.
Meet Your Solution to the Welder Shortage:
The Spartan 1 Welder
Introducing the Spartan 1 Welder – a groundbreaking collaborative robot welder that delivers unparalleled welding performance. Combining cutting-edge Fronius welding packages with the extraordinary capabilities of Kassow Robots 7-axis lightweight robots, the Spartan 1 Welder ensures enhanced torch reach for precise and consistent welds in areas that traditional 6-Axis robots cannot access.
With a choice of 5 different robot sizes with reach reach ranging from 850mm to 1800mm, and a wide range of customizable welding packages, the Spartan 1 Welder addresses labor shortage challenges while maintaining high-quality welding standards. Experience the Spartan 1 Welder difference and revolutionize your welding process with its unmatched flexibility, precision, and efficiency.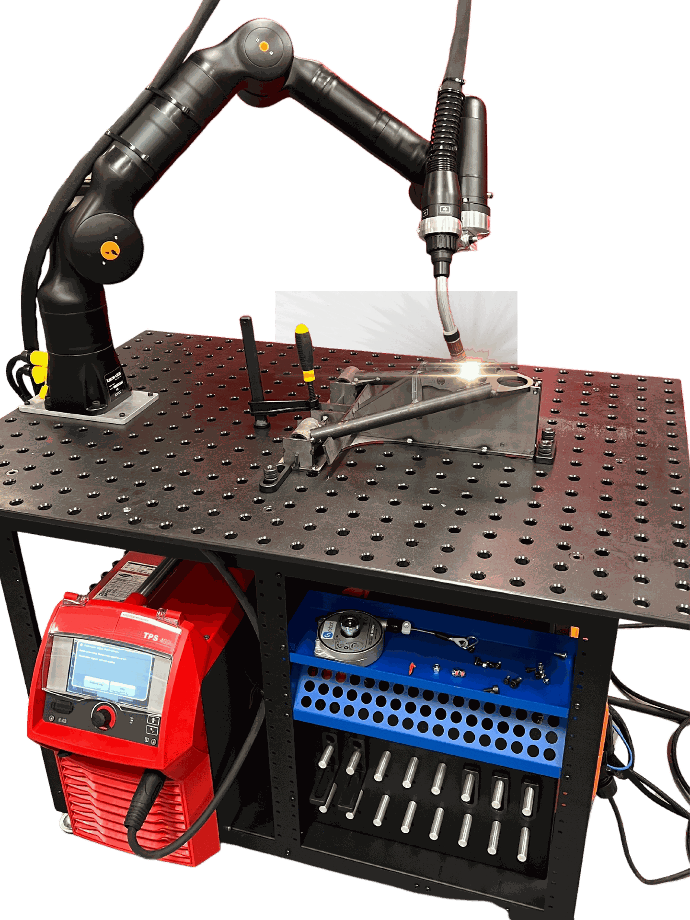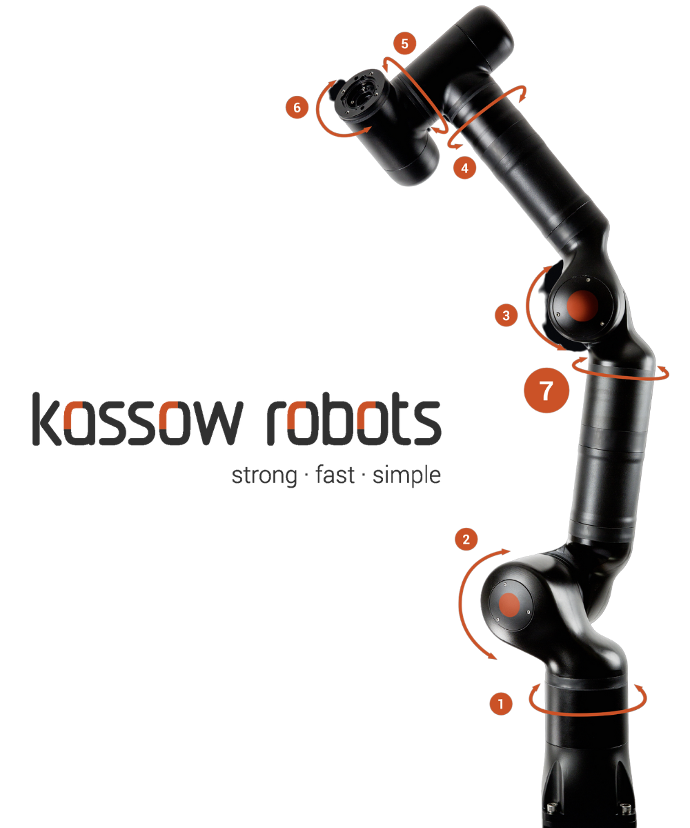 Kassow Robots Lightweight Robots
Why the 7th axis?
Discover the true potential of your welding process with the Spartan 1 Welder's 7-Axis cobot system. Our advanced technology takes your welding capabilities to new heights, offering unparalleled flexibility, precision, and efficiency. Experience the benefits of Kassow Robots 7-Axis Cobots and see how they outperforms traditional 6-Axis robots:
Enhanced Flexibility: The 7th axis enables the Spartan 1 Welder to reach complex weld locations effortlessly, improving weld quality and process efficiency. Whether it's a tight spot or an intricate weld pattern, our cobot can handle it with ease.

Better Obstacle Avoidance: Navigating around obstacles is no longer a challenge with the 7-Axis cobot. It effectively reduces collision risks and minimizes downtime, ensuring a smoother and more productive workflow.

Maximized Workspace Utilization: The additional axis expands the cobot's workspace, allowing it to cover a greater area without the need for extra equipment. This saves you valuable space and cost, making the Spartan 1 Welder a smart investment for your welding needs.

Maintains Torch Tip Speed: Consistent welds are crucial for achieving high-quality results. The 7-Axis cobot maintains torch tip speed around intricate geometries, ensuring uniform welds even in areas where traditional 6-Axis robots fall short.
Fronius Welding Technology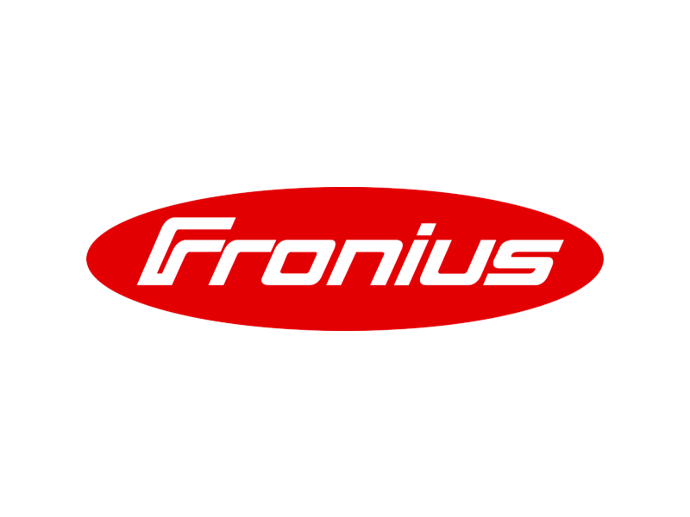 Superior Welds
Spartan Robotics proudly incorporates top-of-the-line Fronius welding components, ensuring that our collaborative robot welder delivers exceptional performance and results. Fronius is a leading manufacturer of premium welding equipment, renowned for their innovative technology, high-quality products, and commitment to customer satisfaction.
We chose Fronius as our partner because their welding components are designed to meet the highest industry standards, offering superior weld quality, reliability, and ease of use. By integrating Fronius components into the Spartan 1 Welder system, we provide our customers with an unparalleled welding experience that maximizes productivity and enhances their welding capabilities.
The TPS/i 400 is a versatile and powerful welding package that offers a wide range of applications and multiple options to meet your specific welding needs. With its advanced technology and user-friendly interface, the TPS/i 400 ensures precise and consistent welds for your projects. Our standard package comes with a power source, push torch, and wire feeder.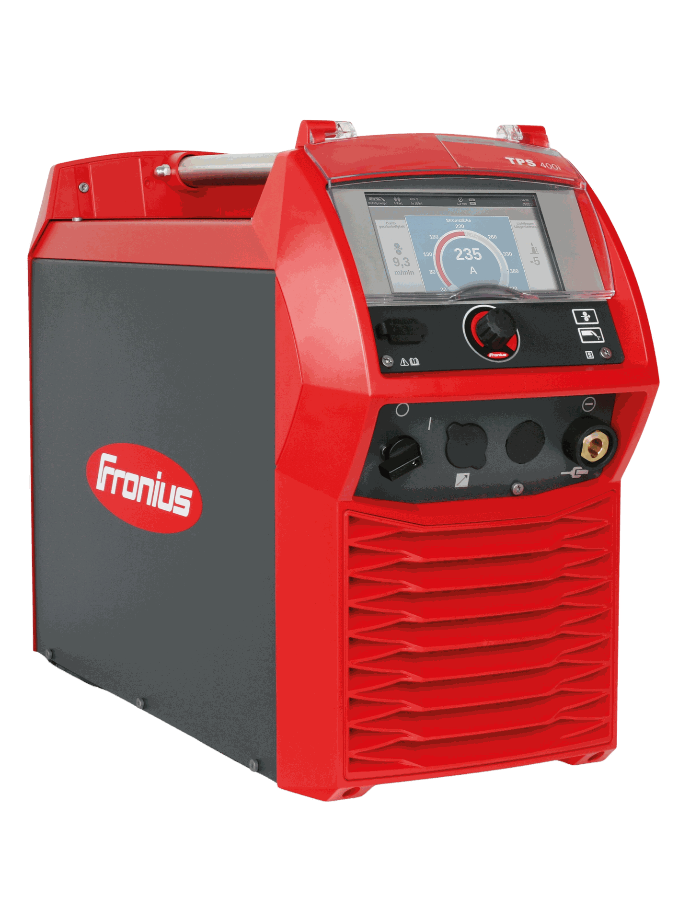 Power Source
Fronius power sources are designed for maximum efficiency and reliability, providing a stable welding arc and optimal welding results. Their advanced technology ensures a high level of control and accuracy, enabling you to achieve exceptional weld quality.

HIGHLIGHTS OF THE TPS/i
The comprehensive features of TPS/i offer many advantages to make your daily routine easier. The high levels of performance and reliability allow for greater productivity, resulting in shorter cycle times.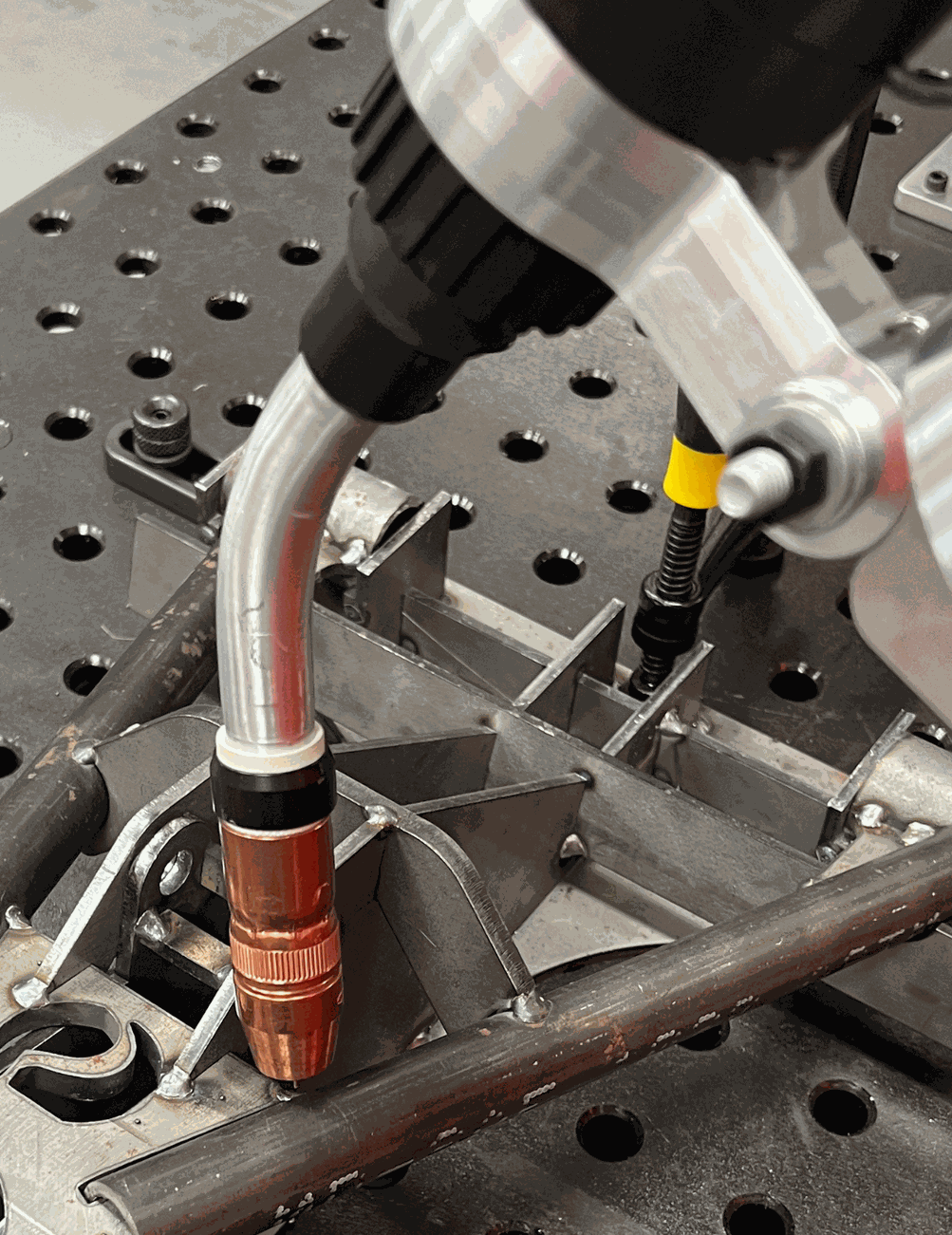 Push Torch
Fronius push torches are known for their durability and performance, offering optimal control and precision for a wide range of welding applications. Their ergonomic design ensures comfortable handling and reduced operator fatigue.

WELDING PACKAGES - Ultimate Flexibility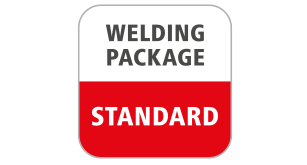 STANDARD
The Standard package includes the dip transfer arc and the spray arc. Easy to use and suitable across the entire performance spectrum of unalloyed, low- and high-alloy materials.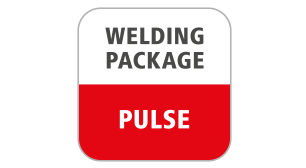 PULSE
The Pulse package from Fronius facilitates pulsed arc welding. This guarantees low levels of spattering as well as a variable working range (light gage to thick gage sheets).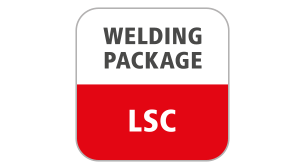 LOW SPATTER CONTROL
LSC is a MIG/MAG welding process with high arc stability and reduced spattering in the dip transfer arc. In addition, the penetration stabilizer enables constant penetration in the spray arc, regardless of any possible stick out change.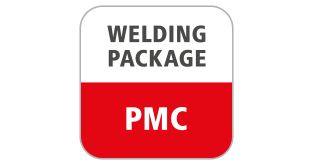 PULSE MULTI CONTROL
PMC is a modified pulsed arc used in MIG/MAG welding. It utilizes penetration and arc length stabilizers to guarantee both higher weld seam quality and faster welding speeds.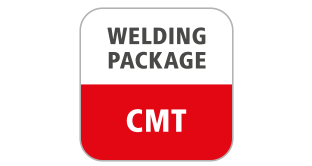 COLD METAL TRANSFER
This highly specific type of droplet detachment minimizes the heat input. The reversing wire electrode movement also reduces the level of spattering.

Upgrade to a Push Pull System
Looking to take your welding capabilities a step further? With Spartan Welder 1, you have the opportunity to upgrade to a Push-Pull System. This upgrade involves an advanced torch, a precision feeder, and a state-of-the-art water cooler system, all designed to enhance your welding performance and productivity.
The Push-Pull System provides greater control over the welding wire, resulting in a smoother, more consistent welding process. This is especially beneficial when working with aluminum or other softer materials that require careful handling.

Advanced Torch: This high-performance torch is designed for maximum control and precision, ensuring a superior welding performance across a range of applications.

Precision Feeder: The feeder ensures a smooth, consistent feed of the welding wire from the spool to the torch, enhancing the consistency and quality of your welds.

Water Cooler System: This state-of-the-art system maintains an optimal torch temperature, promoting longer component life and reliable performance even during intensive welding operations.
Mobile Fume Extraction Solutions Available
Let us know if you'd also like to explore mobile and portable fume extraction solutions to accompany your Spartan 1 Welder! We've partnered with Remove The Fume to help you bring cleaner air to your facility when you're busy at work! Below you can see a few examples of mobile and portable welding fume extractors that your team can take advantage of during your next weld.
Intuitive Programming Software
Programming Your Welds
Spartan Robotics software ensures a hassle-free programming experience for your Spartan 1 Welder. Programmed right from the pendant, our software makes setting up linear, circular, stitch, and pattern welds simple and straightforward. With an easy-to-use interface, even those new to robotic welding can quickly learn to program the welder and optimize their welding process.
Key Features of the Welder Programming Software:
User-friendly interface for easy programming

Set up linear, circular, stitch, and pattern welds

Program the welder directly from the pendant

Quick learning curve for new users
Zero Recurring Software Fees!
Fronius WeldConnect App
The Fronius WeldConnect App simplifies setting up and managing your welding parameters. This user-friendly app, directly accessible from the pendant, guides you through a step-by-step wizard to create and save job parameters tailored to your specific welding requirements. Once you've finished configuring your settings, transfer the jobs to the welder seamlessly via Bluetooth.
Key Features of the Fronius WeldConnect App:
Step-by-step wizard for easy setup

Save and manage multiple job parameters

Transfer jobs to the welder via Bluetooth

Access the app directly from the pendant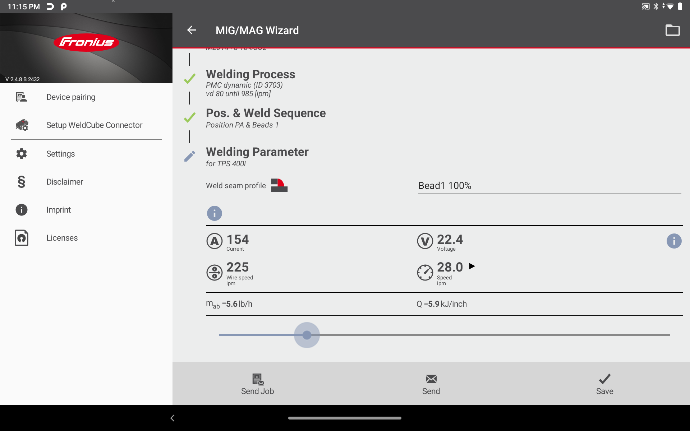 Customization Options Always Available
At Spartan Robotics, we understand that every welding project is unique and requires a tailored solution. That's why we offer a range of customizable options for the Spartan 1 Welder, ensuring that you get the perfect welding system to suit your specific requirements. From table size to robot size and power source, we've got you covered with options designed to optimize your welding process and maximize productivity.

Table Size
Choose from a selection of Siegmund welding tables with multiple configurations available to meet your workpiece specifications. Our high-quality tables offer the perfect foundation for your welding projects, providing a stable and precise workspace.
Welding Package
Choose from numerous Fronius welding packages to equip your Spartan 1 Welder with the ideal combination of torches, wire feeders, and additional accessories. Tailor your welding package to suit your particular welding process and achieve the best possible results.

Robot Size
Select from 5 different Kassow Robots sizes, ranging from 850mm to 1800mm reach. This variety allows you to find the ideal robot size for your workspace and welding application, ensuring optimal performance and results.
Additional Accessories and Options
Enhance your Spartan 1 Welder experience with a variety of additional accessories and options, such as upgraded torches, advanced wire feeders, and more. Customize your welding system to meet your exact needs and preferences.
Included with the
Spartan 1

Welder
Equip yourself for welding success with the Spartan 1 Welder Kit, and benefit from the extensive support and resources that come with your investment. Experience the difference that a comprehensive, customizable collaborative robot welder can make in your welding process and overall productivity.

Spartan 1 Welder
Experience the superior performance and flexibility of the Spartan 1 Welder, featuring cutting-edge Fronius welding components and Kassow 7-Axis robots for accurate and consistent welds.
Spartan Welder Starter Tool Kit
Get started with your Spartan 1 Welder right away, thanks to the included Starter Tool Kit. This kit contains all the essential tools you'll need to set up and begin using your collaborative robot welder.
Lifetime Free Virtual Support
Enjoy peace of mind knowing that our team of experts is here to provide you with ongoing virtual support for the lifetime of your Spartan 1 Welder. We're committed to ensuring that you have the assistance you need to maintain optimal performance and efficiency.
Lifetime Free E-Learning Curriculum
Access a comprehensive e-learning curriculum designed to help you master your Spartan 1 Welder. With lifetime free access, you can continually develop your skills and stay up-to-date with the latest advancements in robotic welding technology.
Ready to Transform Your Welding Process?